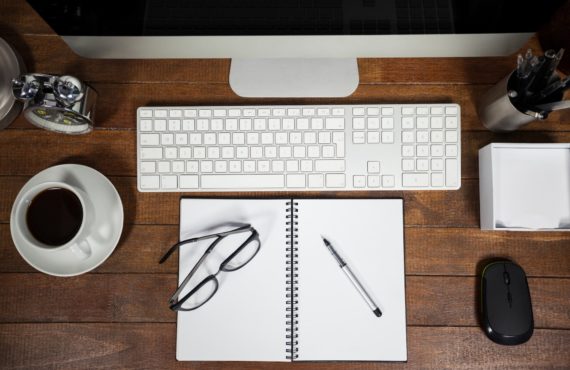 Why Choose Us
Geoscape Limited is a certified Oil and Gas engineering services company in Nigeria with many years of experience and knowledge of international standards, technological and industrial systems. We are dedicated to providing the best and economical solutions to our esteemed clients.
We have been providing excellent services since 2009. Our Company has consistently embraced innovation to provide a superior level of excellence to our customers. We are committed to superior quality and results.
We always put our clients first.

We utilise the latest technologies.

Quality is our goal.

Safety is our watch word.
Vision Statement
To be the reference point for excellence in our chosen markets.
Mission Statement
In pursuit of our vision, our commitment to our stakeholders will be as follows:
Shareholders – To continually grow shareholders' wealth
Customers –     To deliver sustainable value and exceed expectations
Partners –         To demonstrate professionalism and integrity in all our doings.
Employees –    To build a passionate working force that possesses a sense of ownership by providing an enabling safework environment to foster growth and self actualisation.
Core Values
In order to deliver on our promise of providing efficient and effective services to our clients, the staff of Geoscape Limited are committed to the following values:-
S – Safety
T – Thoughtfulness
R – Respect
I – Integrity
P – Professionalism
E – Excellence
S – Security
Corporate Governance
Geoscape Limited is an indigenous ISO 9001:2015 certified company overseen by an executive Board of Directors.

Business is run by the Managing Director in conjunction with the Executive Committee.

Operations are executed under the supervision of middle level management and mentored officers.

We run on business principles of Customer Focus and Risk Analysis  to ensure that our Vision and Mission statements are achieved.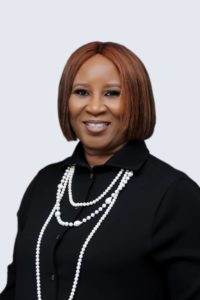 Dupe is the Managing Director cum Chief Executive Officer of Geoscape Limited. She is a Chemical Engineer with a master's degree in Business Administration (with emphasis on Finance and Accounting). She has over three decades experience spanning the banking industry as well as the upstream service sector of Oil & Gas Industry with special focus on Procurement of engineering equipment and provision of related technical services in the sector.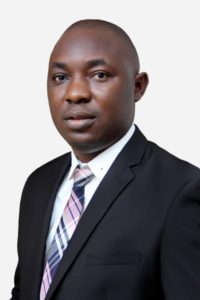 AJIBADE OWOEYE
Executive Director
Ajibade joined Geoscape with a wealth of collective work experience in banking, management consulting and engineering practices. He started his engineering practice with Makstech Engineering Services Company Limited. He has wide exposure in Machining, Fabrication and Maintenance of Engineering Equipment. He is a Mckinsey & Co trained Operational Excellence Expert. He holds HND (Distinction) in Agricultural Engineering and an MBA in Management.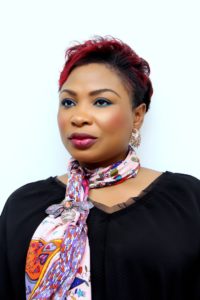 MORENIKE ('REN) JUPI-IGBEKA
Head, Contracting & Manpower Services
Morenike is the Head of Contracting & Manpower Services. She was formerly the Supply and Distribution Manager at SO Aviation (A Sahara Group company in Nigeria). Over the years she has gathered work experience in Sales and Marketing, Shipping and Logistics, Operations Management, Learning and Development, Petroleum Products Supply and Distribution, Currency Trade and Project Management. She holds a degree in Banking & Finance and has attended a number of trainings on Oil and Gas business.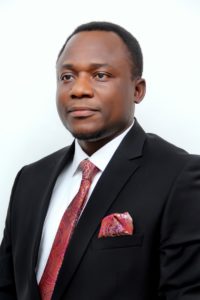 KINGSLEY KEZINIBE
Head, Workforce, Corporate Services & Compliance
Kingsley is the Head Workforce, Corporate Services & Compliance. He has wide ranging work experiences in Banking, Finance , Compliance and Personnel Management that spans over 13 years. He is an Associate of the Chartered Institute of Bankers of Nigeria (CIBN) and also holds a Masters Degree in Business Administration from the Obafemi Awolowo University, Ile Ife. He is also an IRCA/DQNS certified Lead Auditor for Quality Management System (ISO 9001:2008) and (ISO 9001:2015).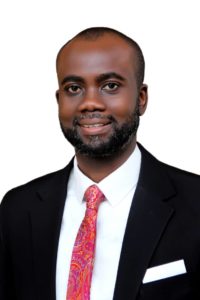 OLUWASEUN SANNI
Financial Controller
Oluwaseun is the Financial Controller of Geoscape Limited. He was formerly the Finance Manager at C&N Investment Limited. He is an Associate of the Institute of Chartered Accountants of Nigeria (ACA) as well as an Associate Member of the Chartered Institute of Taxation of Nigeria (CITN). He holds a Bachelor's Degree in Accounting from the University of Lagos, Nigeria